On this page, you'll find all of our design resources, tailored to help both beginners and experts alike create successful bottle cap designs. You can jump to a specific section below, or just scroll through the whole thing.
→ Introduction to Making Complex Designs
Learn why BottleMark recommends using offline programs to create better bottle caps.
→ Design Tips
Learn the do's and don'ts of bottle cap design.
→ Sample Designs
See the design tips in action with these bottle cap photos.
→ SVG Templates
Want a shortcut? Check out our SVG templates. You'll find library designs and general-use templates ready to download and customize.
→ Inkscape Design Screencasts
In this series of videos, we show you the most important Inkscape tricks for bottle cap design, from cropping photos to creating circular text.
If you want a real-world preview of your cap, don't forget: you can always order a free digital sample.
For design help, requests, or inquiries, contact Haley E. R. Cooper. And you can always ask us to design something for you.
Introduction to Making Complex Designs
Our online design tool allows you to upload an image, resize it, and reposition it, but if you want to add text or multiple images to your bottle cap, you'll need to use an offline design program and export the final design as a single image. You can use any drawing program that outputs in GIF, JPG, or PNG to create designs for BottleMark custom caps. And pretty much every drawing program will! You may already have Photoshop, Paint Shop Pro, or Illustrator—even Powerpoint can work.
Our favorite? Inkscape. It's a free and powerful vector drawing program that works on Windows, Mac, and Linux. While Inkscape offers many sophisticated features, it won't take you long to master the tricks you need to create a great cap. We've got screencasts below to help you, as well as Inkscape SVG templates. So give it a go!
Design Tips
We can print anything you want on a cap, but some designs look better than others. Here are a few pointers on successful bottle cap design:
What the printing is like: We currently offer only white caps for custom designs. Our printing has a matte finish so colors look consistent in every light. BottleMark prints only on the flat top of the cap: the crimped edges and the curving rim will remain the base color. We cannot print on the inside of caps.
A bottle cap is small. 1 inch in diameter: this is a very small canvas! Don't expect tiny details to reproduce well. Make sure that all your design elements are clear and legible at the size of 1 inch before ordering. Avoid over-designing your cap—save the crazy stuff for labels! Zoom in on your image as much as possible so the subject fills the entire canvas and is as large as possible.
Use square or circular designs. Since the printable area is a perfect circle, choose an image that works when cropped into a square or circle. A rectangular image can work, too, but you'll need to make it smaller to get all of it on the canvas: you risk losing detail at the same time that you have some wasted space. So think circular!
High-contrast colors. Be bold with your colors. If you have many layers to your design, make sure that the background and the foreground graphics have a strong dark-to-light color contrast. Black-and-white and richly colored pictures look beautiful on caps. You can up the color saturation or vibrance on a photo to create a look that "pops." The more contrast in the photo or graphic, the better it will read at the size of 1-inch.
Bold text. When it comes to text, the bolder the font, the bigger the size, the better. You don't want your text to end up illegible! Make sure text contrasts with the background: dark colors against light colors. Pay special attention to contrast if you're working with text on a photo background. If text is the most important part of your cap, use solid backgrounds to make your text "pop." All varieties of fonts can work, but avoid thin and super-frilly fonts.
Transparent elements: Since we only print on white caps, anything in your design that is either pure white OR set to transparent will print using the original white of the cap. Note that the printed areas are raised very slightly above the base metal of the cap, so there will be tiny ridge surrounding transparent sections. Fine details like tiny text in the middle of a large white area are more likely to scrape off.
Leave a margin. We print on as much of the bottle cap as we can; however, the rounded edges of the cap are rounded even more in capping, so elements that are all the way to the edge can be lost or look strange. Leave a little space at the edge.
Sample Designs
Below is a screen shot from the design tool and a photo of the resulting cap.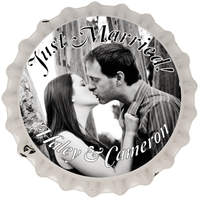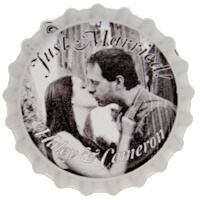 While the black-and-white photo turned out lovely, the text is a disaster! The font on top looks too narrow in black, and the bottom text (white fill with a too-thin black stroke) blends in completely with the grayish-white around the bottom of the photo. This is no good!
Now see the improvement. We used the same photo and even the same curly font but changed the font color.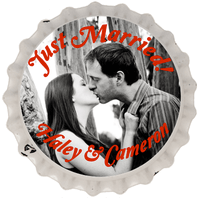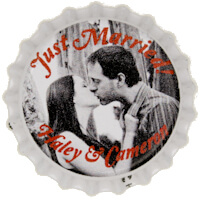 Better, but it's not perfect. It still looks a little garbled.
Now this is the best choice. We've deleted the text, enlarged the photo, and made the design all about the cute image.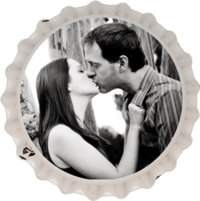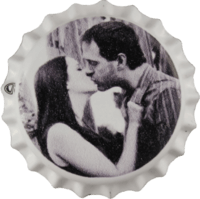 So why couldn't we get the text to work? This photo has both dark and light areas, so we couldn't pick a single text color that truly popped. If you want your text to pop but your image isn't cooperating, put it on top of a simple background, like this: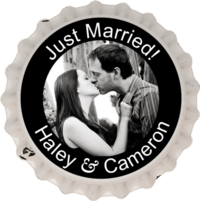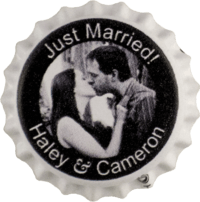 Now we've got the color contrast we need to have easy-to-read text. We've cropped the photo into a center circle and added a ring of color on the outside. The photo's not as prominent as in the last design, but we do get the text loud and clear.
Here's another example of bad text contrast.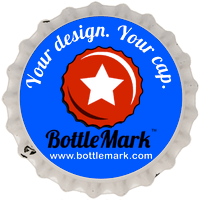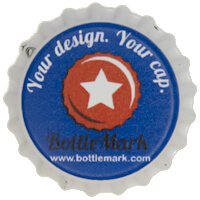 The white text shows up clearly on a blue background, but the black text doesn't show up nearly as well. Why? Black and blue are not a strong light-against-dark color combination; they're both rather dark colors. Opt for white or pale colors against blue.
Here's an example of a rectangular graphic forced onto a circular canvas.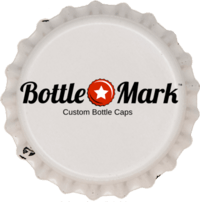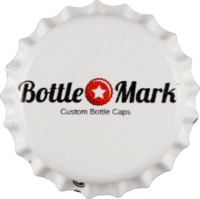 The "Custom Bottle Caps" text is just barely readable. Even though the graphic stretches from edge to edge, it is way too small, and there's a lot of wasted space, too. Best to start with an image that looks great as a circle or square.
Although the face is small in the cap below, it still turned out perfectly distinct. We don't recommend going much smaller though.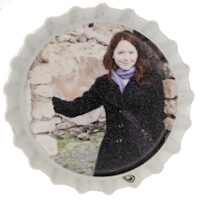 This cap—a picture of Neptune—is a good example of not having enough detail. It printed correctly, but it's a pretty boring cap!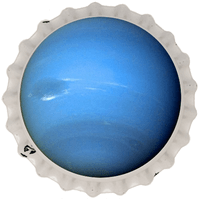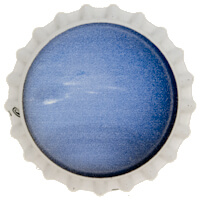 SVG Templates
Not a design whiz? Here you'll find bottle cap design templates ready to download so you can customize your own.
Using the Templates
The files are SVGs (Scalable Vector Graphics). You can open them in a number of programs. We like Inkscape (open source and 100% free). Many of our templates use fonts you may not already have, and if you want the same font you'll need to download it from dafont and install it on your system first. (We use 100% free fonts, specific links provided below.) Once you've opened the template, you can change text, fonts, add graphics (File: Import), do whatever you'd like.
Once you're satisfied with the design, go to "File: Export Bitmap". In that dialog choose to export "Page" at the top, make sure the Width field is at 500, pick a file name (it'll be a PNG), and click the button to export your design. This'll give you a format BottleMark can take. You can upload your PNG design in BottleMark's design tool and order that awesome cap!
Downloadable Templates
These templates are what we use to make the designs in our cap library. Each is an SVG (meant for Inkscape) in a ZIP file, so you'll need to extract the SVG file before using it. Don't forget to download and install any fonts first, and then open the templates!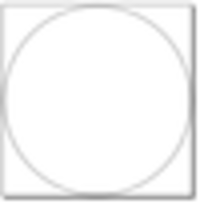 Empty cap template: this very basic file features a perfect circle. It's a blank canvas: not much to this template. Note that the circle's fill is set to transparent. You can change it to white or any other color if you want a colored background. The circle also has a thin black stroke around it as a design guideline. If you don't want a black outline on your cap, before you export your design, set the stroke on the circle to transparent (Object: Fill and Stroke), and the outline will disappear.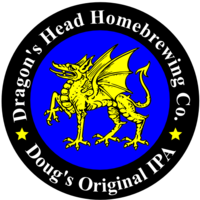 Complex template: this file features some common desirable design elements: a smaller circle within the larger circle, a center graphic, and curved text. Use this template if you want something totally customizable but want a headstart on certain design elements. You can change colors, alter the text and font, delete the graphics, upload your own. We pulled the awesome dragon from Inkscape's Open Clipart Library (available under File).
If you want a picture (instead of a graphic) in the center:
Import your picture
Send your picture to just behind the small center circle
Align the smaller circle on top of your picture over the desired crop region
Select both objects and go to Object: Clip: Set...and your photo is cropped into a circle!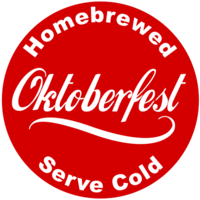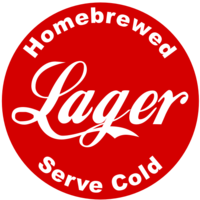 Soda Shop Swirl / Soda Shop Plain: a tribute to the vintage soda cap. Features beer style in the center and curved text that reads "Homebrewed" and "Serve Cold." Customize the text to whatever's brewing. Fonts: Loki Cola and Arial Black.

Bar Code: features beer style in a clever bar code font. We've added the circle outline (aka stroke) as a design guide; if you don't want a border on your cap, make sure to set the circle's stroke to transparent when you're done designing (Object: Fill and Stroke). Font: Barcode Font.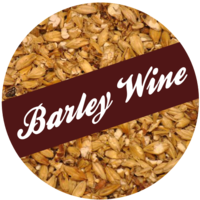 Barley: features beer style with a photographic barley background. Font: Ballpark Weiner.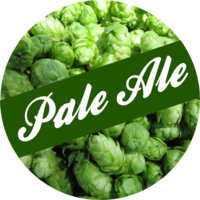 Hops: features beer style with a photographic hops background. Font: Ballpark Weiner.
Brew Date: features beer style with room to write in a date. Font: Imprint MT Shadow.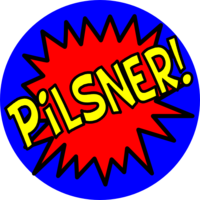 Comic Book Pow: features beer style in bold comic book style. Font: BD Cartoon Shout.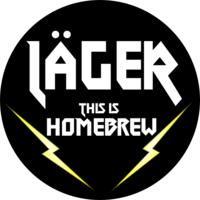 Heavy Metal: a parody of Hard Rock aesthetic. Make sure to move the umlaut to a fun location. THIS IS HOMEBREW! Font: Metal Lord.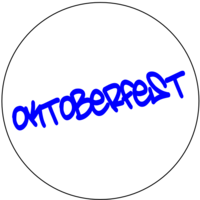 Graffiti: simply cool. The circle is set to a transparent fill, but you can change the background color easily. The circle does feature an outline (aka stroke) as a design guide; if you don't want a border on your cap, make sure to set the circle's stroke to transparent when you're done designing (Object: Fill and Stroke). Font: Amsterdam Graffiti.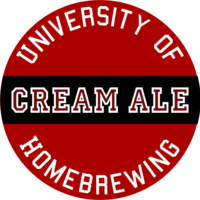 University of Homebrewing: features beer type with curved text "University of Homebrewing." Change the colors to your favorite school. A complex design: delete the center text along with each letter's fill, type your center text, and then use the paint bucket to fill red (or any other) color in the space in the letters made by the Allstar font. Fonts: College and Allstar.
Inkscape Design Screencasts